Newly penned folk songs get their first airing at Ludlow Fringe 2023
16th May 2023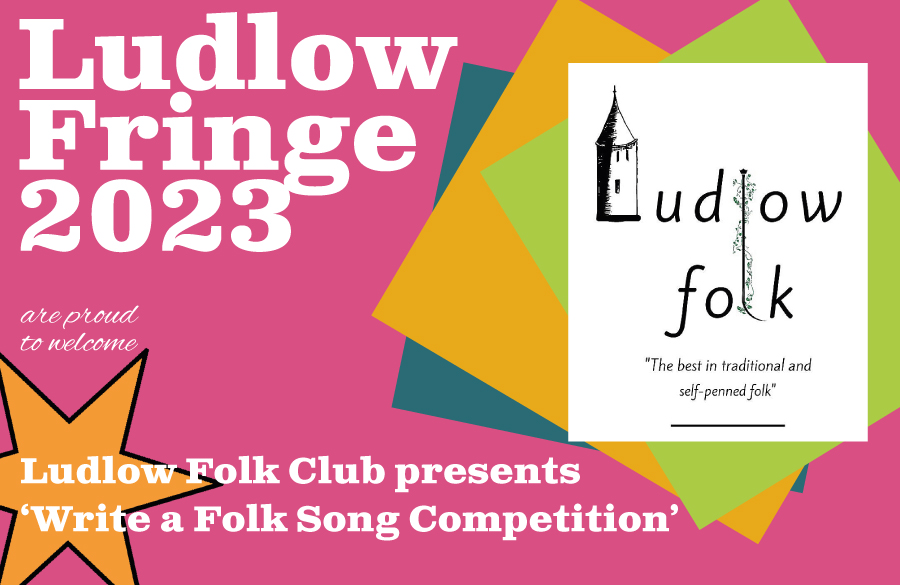 I caught up with Kim Olyett, of Ludlow Folk, this week to talk about the folk competition that is underway to bring new music to Ludlow. The "Write a Folk Song Competition" aims to keep the folk tradition alive through musical storytelling and enables, not just, new songs to come to the fore, but new artists too.
Ludlow Folk
Kim ran a folk club and several songwriting competitions in Hertfordshire for many years before moving to Ludlow. She said, "I met so many talented folk musicians in town and also many budding songwriters so the competition seemed an ideal way to showcase their talent. The folk club has been running successfully now for the past 5 months at The Folk Cafe at Bill's, these food and folk evenings have included the Rotundas and the Ella Marys. This month we also welcome Rapsquillion to the stage."

Myths and Legends
I asked Kim what was in store for the Fringe 2023 audience at the Song Competition Final evening, and she explained more about the 1st July event.
"The audience for the "Write a Song Competition" evening will witness the finalists of the competition playing the songs they've penned, based on the theme Myths and Legends. The evening will kick off with the well-known musicians Martin Thomas and Jim Allen (both part of "Grey Wolf") and Deborah Rose who are the judges for the evening, playing a song each. This is followed by the finalists presenting their tunes and getting live feedback from the judges before the winner and runner-up are announced.
It should be an enjoyable evening for anyone who likes folk music, and you will experience the best storytelling folk songs which will undoubtedly draw on the rich history of Ludlow and The Marches area. If you want to witness songwriting history in the making you can see it first at Ludlow Fringe, as these amazing new songs will definitely be played again and again in folk clubs throughout the UK."
Book tickets now for this show.