Drew Taylor brings a new crew of lively comics to Ludlow Fringe 2023
16th May 2023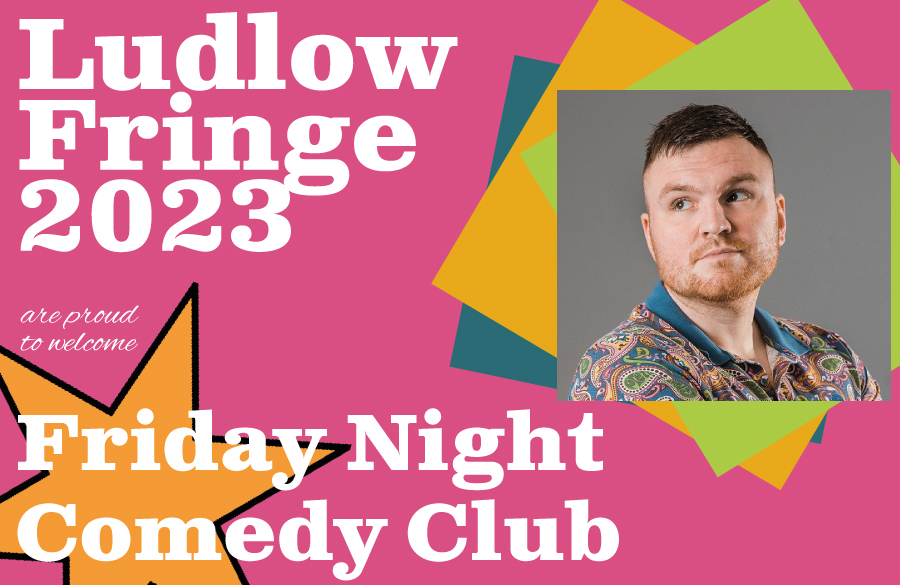 I asked Drew Taylor a little more about his motivation to be the "host" of the comedy show and he said, "I first started hosting shows as I was trying to bring more comedy to the Welsh Valleys where I was brought up. People enjoy a pint and laugh and it gives new talent a chance to showcase their material to an audience."
He also pointed out that there are, "many comics that you really should see live because it's great watching comedy on streaming services at home but nothing beats the live experience you get at a comedy club."
Drew is a successful comic in his own right with over 8 years and 1000 gigs experience, and early in his career was a finalist and/or winner of a number of new act competitions and was selected to take part in the Best in Class Showcase at The Edinburgh Fringe in 2018. He says he'll possibly aim to go there again in a few years, but next year he has a bigger commitment, excuse the pun, as he's getting hitched!
Change to the program for 2023
This year, Drew extends his apologies as there is a change to the program - Sully O'Sullivan replaces Matt Price.
Here's what Drew has to say about the three visiting comics:
Josh Elton
"Josh Elton beat me in 2017 at the Welsh Stand Up Awards, and he's been picked to be on the Triple-A Showcase in Edinburgh. He's a very exciting comic, and one to watch as he'll go far."
Julia Stenton
"Julia Stenton was a Funny Women Finalist and is developing her stage presence. Her appearance can be very disarming and she shocks audiences but in a good way."
Sully O'Sullivan
"Sully O'Sullivan is a comic hailing from the Land of the Long White Cloud and has appeared on TV over there on a show called Pulp Comedy. He has however moved here as there is a bigger scene, and his style is frank and honest comedy, with hilarious effect."