Come and see A Midsummer Night's Dream in Ludlow Castle 2023
31st March 2023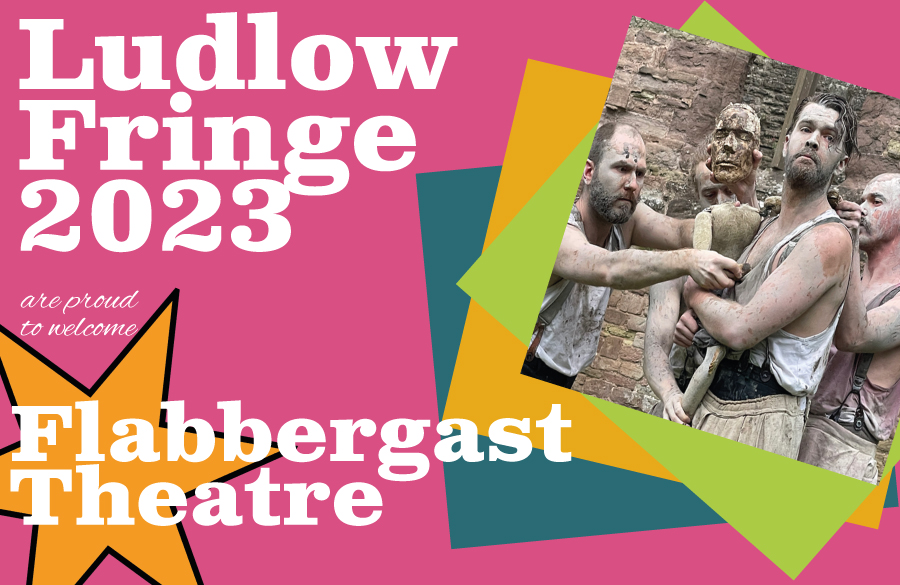 Faeries, Sprites & Mayhem!
Shakespeare's most beloved comedy
Flabbergast Theatre are with us again this year, by popular demand, with their version of A Midsummer Night's Dream in Ludlow Castle. Daily performances on the:

Saturday 17th June – Saturday 24th June
Tickets are selling fast! Book early to avoid disappointment.

If you haven't seen outdoor theatre before, we think you'll be delighted that it's set in the historic grounds of Ludlow Castle. You can picnic prior to the show in the outer bailey, be entertained by the fairies and then follow them into the inner bailey for the performance.
This year the performers will be on a raised stage ensuring everyone has a good view of the show.
Flabbergast Theatre's version of the Shakespeare play embraces the modern audience, staying loyal to a classic but approaching it in a refreshing and visually beautiful way.

You might ask, why update a classic?….

Inclusivity: Children (aged 12+) can access Shakespeare and a new generation of theatre-goers are born.

Relatable: The characters, the plot, and the messages of the play are so much more understandable for modern audiences.
Picnic area in the outer bailey of Ludlow Castle
This year we are staging a picnic area in the outer bailey of Ludlow Castle before each show. This will be part of the immersive experience for audiences to enjoy, as the actors and other local performers move through the audience to set the scene for the main show.

The picnic "pre-performance" will build to a crescendo where all of our performers and the audience will parade through an archway and over the castle moat, which will leave everyone feeling that they are being drawn into a mystical land where the characters of the play reside.
Shropshire Star
We are very thankful to be featured in the Shropshire Star - see their article:
https://www.shropshirestar.com/entertainment/theatre-and-comedy/2023/03/26/tickets-on-sale-for-shakespeare-show-in-the-castle/


Reviews for 2022 performances of Macbeth
Dominic Cavendish
The Telegraph ★★★★☆
Shakespeare's words wrung into new shapes through raw physical movement...
as captivating as it is unsettling...
This is a Macbeth full of sound and fury, signifying something with every crooked gesture.


Stewart Lee – Top 9 Shows Edinburgh Fringe
Everything you want... in this brilliantly designed show the turns themselves seem to have risen up out of the clay... Shakespeare himself would surely have enjoyed [this show]
I am glad my kids saw this. It will have made them lifelong converts of real theatre... I am glad I saw it, because it reminded me of being 19 in 1987 and coming here and having my mind blown...
British Theatre Guide ★★★★★
"[Flabbergast Theatre] powerfully emphasize the darkly metaphysical nature of the play...
relentless action and invention. Every perfectly constructed, tightly choreographed moment in the play is explored for maximum impact and clarity of purpose...
This is an exciting and vital interpretation of Macbeth which serves to invigorate one of Shakespeare's best-known plays with a new intensity."
Bouquets and Brickbats ★★★★★
This raucous, visceral reimagining of the story captures the essence of the piece more eloquently than pretty much any other production I've seen.
The Tragedy of Macbeth ends with a heartfelt standing ovation from the crowd and it is fully deserved. Don't miss this, it's a wonder to behold.
Voice Mag ★★★★☆
"When a classic has been done again and again, it's hard to make it unique. However, that wasn't the case for Flabbergast Theatre. Lending physical theatre to Shakespeare works so well, and the cast of this Tragedy of Macbeth have proved that once again"
"The chemistry between the cast was palpable ... Flabbergast Theatre stayed loyal to a classic but approached it in a refreshing and visually beautiful way"
Local hosts needed!

The performers for our shows often need accommodation. If you can help at all, in any way, please get in touch: admin@ludlowfringe.co.uk

Stewards needed!

We also need stewards for ALL events. To find out more get in touch: admin@ludlowfringe.co.uk