The best improv comedy shows are at Ludlow Fringe 2023
16th May 2023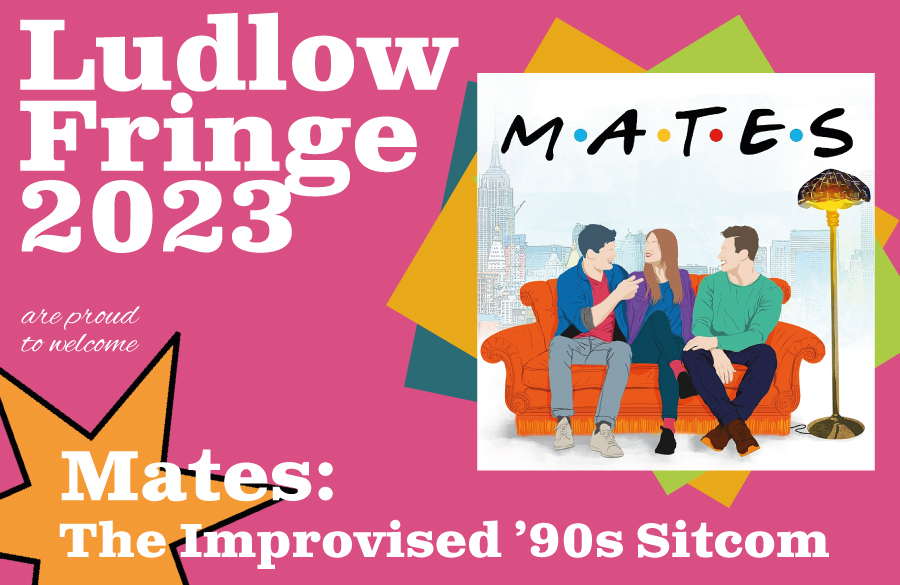 This week we spoke to Hugh from Mates: The Improvised 90's Sitcom, and he spent most of his time talking about another one of the cast, Rachel! Turns out the Mates crew are all good pals in real life and have known each other for ten-plus years! The improv comedy show reflects that friendship and, even though they all live miles away from each other, it shines through when they come together to perform.



The Mates show follows Rachel, Hugh and Alex as they navigate the trials and tribulations of sharing an apartment in 90's New York. With each show, the plot, characters and dialogue are all uniquely improvised from audience suggestions to create hilarious scenes, much like your favourite sitcoms.
The team are accomplished improvisers in their own right. Outside of Mates, Hugh co-founded Stealing The Show: The Improvised Heist Comedy. Together Rachel and Alex created Sex, Lies & Improvisation - which we also have at Ludlow Fringe for 2023. When Rachel's not improvising, she writes comedy for BBC Radio 4, including Dead Ringers and The Now Show.
Rachel, Hugh and Alex created Mates in 2020, which made for a rocky start given that thing that happened, but since getting on the road they've made it to festivals across the country and been awarded Best Improv Show Edinburgh Fringe 2022 by Theatre Weekly.
Hugh also mentioned that the crew are here at the request of Alistair McGowan, as he felt Ludlow would be good for them to experience - I can't help thinking that if Alistair thinks Mates is right for Ludlow, then buying a ticket is going to be well worth it!:)